The holiday season can be a make or break time for companies. With more and more consumers purchasing online, the web site has become a vitally important part of any company's business strategy. In today's economy, every sale is important, so fixing up your website so it performs as well as it can is smart.
Here's a practical checklist will help you make sure you make the most of this season's holiday business; and, equally important, that you gather data now that will improve your online sales cycle next year.
Window Dressing - Holiday Checklist for Your Site's Front End
1. Display important information in a prominent location. During the holiday season one of the most critical pieces of information is the Order By date. Sometimes the practical information required by the user gets pushed to the back of the tree. Consider creative ways to draw the attention to critical delivery dates, for example, include a calendar showing order by/receive by deadlines.
Don't forget a good old fashioned site search box either. Some customers know exactly what gift they want and all they need to know is if you have it in stock. Your online site search is an excellent data collection tool too. Find out what customers are looking for and whether you are providing the items or services they want to find. Apply the data information to last minute holiday specials. When the season settles, review your site search reports in preparation for the next Holiday Season.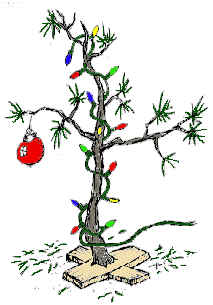 2. Trim the tree. Consider adding some holiday elements to your site that reflects the spirit of the season. Google, for example, always can be counted on to have appropriate "themes" for special days. But express your business's holiday spirit while keeping cultural diversity in mind. The web is a global melting pot, and people from many traditions may come to your site. Decorate with festive elements that will be inviting to all your potential customers, regardless of their faiths.
3. Provide Gift Suggestions. This is the time of year when bachelor uncles and aunts shop online from the office for young nieces and nephews. Make it easy on them by suggesting age appropriate gift ideas. List popular items for them; it can be a little daunting to choose that perfect something for tiny tots or gadget-savvy teens. Consider creating a simple attractive page or navigation with gift suggestions by age, price, gender, size, brand, or any other relevant category. It's a much appreciated service and a great value-add that promotes your products by highlighting them in a different way. Toys'R'Us has mastered the art of gift selection with their classic "Shop By Age" and their users come back repeatedly because the site makes gift selection that much easier.
If you have testimonials or product reviews, include them. Customers love to hear what other people think about the products and, for many potential shoppers, the endorsement of another customer is all they may need to hit the "buy" button.
Encourage multiple product buys with cross sell gift suggestions. Recommend and couple related products. It's more cost effective to sell to an existing customer than to recruit a new one. So let "Cross Sell" be your holiday mantra. Don't forget batteries!
4. Give customers the "warm fuzzies" (our technical term for instilling confidence). Factors that build trust include strategically placed trust seals like Trustee and Better Business Bureau Online, and having a physical address with a phone number listed on the site. People are still leery of fly-by-night Internet companies. If you have a guarantee, state it. If you take any personal data, link to your Privacy Policy (you do have one, right?) and tell them in easy to understand terms what you track and if you share data.
5. Add a Holiday FAQ. Answer the questions your customers are asking. Online shoppers expect to find all the information they need on the site. How much time do they have to return the item? Is the return for cash or credit only? Is there a local store where they can return the item? What is the phone number to call for questions?
Talk to your support personnel. They know best of all what your customers' queries are. Have them track commonly asked questions, then post these questions and answers on your web site. Your customers will appreciate the information, professionalism, and thoughtfulness that a Holiday FAQ expresses. Your staff will appreciate having the volume of calls lessened, and your support of their efforts during the holiday season will help them stay cheerful with customers.
6. Proof Your Site. Your site's appearance communicates volumes about your business. If it looks professional, your business will be perceived as being professional. Broken links, misspellings, forms that don't work, or amateur design all detract from your image.
7. Test your entire transaction process . . . with complete strangers. We are all too familiar with our own sites to see the faults or points of confusion that will frustrate customers and cause them to click off. Get a fresh perspective. Ask several people who are unfamiliar with your site to walk through all the steps of making a purchase. What's their experience? Are the navigation, titles, and submit buttons obvious to first time visitors? During the holiday season, many of the visitors coming to your site will be there for the first time. They may also be tight on time and short on shopping patience. This simple test can ferret out potential confusion points and make the shopping experience on your site ring as clear as silver bells.
Holiday Bells - Letting Customers Know about Your Site's Yuletide Cheer
8. Promote your site. Online advertising has evolved. Consider running an additional campaign during the holiday season to promote your business. Social media campaigns, emails to opt-in customers, pay-per-click advertising, niche newsletter ads, and banner ads are all great online marketing outlets. Online gift certificates can entice customers who aren't sure what to give that special someone on their holiday list. Tell a wide span of potential customers about your products and holiday specials. Don't stop with online advertising. Traditional marketing outlets, including national and local newspapers, radio, and TV, can boost your holiday sales. Local TV and radio ads are often quite affordable, depending on your market and local media buyers can help you produce a spot inexpensively and in time for the holiday season.
9. Reward customers with online discounts. Make 'em an offer they can't refuse. Attract customers with holiday promotions, electronic coupons, quantity discounts, and gift registries. If your business can support it, consider free or discounted shipping options.
Behind the Scenes - Holiday Site Updates for the Back End
10. Can your server handle the "load?" The holiday season stresses every aspect of your business from your sales staff to your servers. Have your IT gurus monitor your servers and check with them to ensure they are on top of any server load issues. Be prepared. If your holiday wishes come true and you start drawing unexpected volumes of traffic, consider installing temporary fixes to cope with the additional load. Whenever possible, defer implementing major infrastructure changes to your server configuration until after the high pressure season is over. That'll leave you free to concentrate on your business and avoid painful installation and configuration glitches. There are many third party site monitoring services designed to fit a wide price range. Search "server monitoring" for any number of options.
11. Is your shopping cart and inventory system sophisticated enough to let customers know if an item is available or on back order? Nothing is as upsetting to a customer as when they order little Susie a special holiday present, thinking it will arrive in time for Christmas, only to find out--after it's too late--that their gift is on back order and won't be available until March. Whenever possible have enough merchandise in stock to handle the increased demand.
12. Put tracking mechanisms in place. Double check that they are functioning properly. Now is the ideal time to collect hard feedback on how your site and promotions are working. By collecting return on investment, visitor pathways, and other success metrics you will be in a better position to tell what promotions were profitable and which just cost you a lot of money. A cursory review of the findings may help you make some final tweaks on your promotions this season, but, more importantly, use the time after the holiday crunch is over to mine for gems on how to better run your business next year.
Cookies for Santa
Once you've gone through this checklist and implemented what you can for this season, sit back and enjoy the holidays--knowing that you are servicing your customers a little better by making their online shopping experience a little friendlier, and knowing that you are collecting metrics to do even better next season, and all year round.